$20.00 OFF Coupon How to Save on Young Living Essential Oils
In the past few months, you've heard me mention Young Living Essential Oils. People want to know how or where you can buy Young Living Essential Oils. I would like to share about the oils and how to order them, but better yet how you can SAVE when you purchase Young Living Essential Oils.
What are Young Living Essential Oils?
The next time you drive by a field of fresh peppermint or hike through a pine forest, breathe deeply—you're experiencing the soul-soothing power of essential oils. But essential oils are more than nice scents; these powerful plant extracts are your path to the lifelong wellness Young Living is committed to helping you discover.
At the intersection of cutting-edge research and traditional wisdom, Young Living formulates targeted, essential oil-based wellness solutions that empower you to dodge harmful chemicals, energize your life, ditch stress and negativity, and reclaim your natural radiance. Young Living Essential oils are Essential at Home, for Wellness, to create Balance, and Beauty.
They are the BEST option when it comes to choosing essential oils. They offer the largest selection of the highest quality essential oils on the market. Some of my favorites are Thieves, Lavender and Sandlewood. Stress Away, Aroma Life and Joy go everywhere with me. I have tried many of the "cheaper" options for these blends and nothing compares. If you decide you love these oils, you may want to sign up with Young Living as a member to save 24%.
Sure, you can simply buy them at retail, but we love the Essential Rewards program around here!!
Here is the scoop – you join Young Living as a distributor. I know that sounds all scary and stuff. It really isn't. You buy a $45.00-$160.00 membership kit to get a 24% discount. As a Young Living member you have to spend 50 PV (around $50 in products of your choice) per year to keep your wholesale discount. So, sign up and if you don't buy again, no big deal. If you become a regular orderer, you can sign up for the Essential Rewards Program can earn FREE oils.
When you initially sign up you must buy a starter kit. So, how can you make this work for you?
Check out the premium starter kit, it is worth $325, but you can save over 50% - it will get you all the oils you need to get started PLUS a great diffuser and cover the cost of your starter kit purchase – for $160.00. The premium kit includes Everyday Oils Essential Oil Collection, plus a diffuser and more!
Enroll with the ultimate Young Living product and business experience! An extraordinary value that offers a comprehensive introduction to the power of essential oils, the Premium Starter Kit is the perfect option for those who are serious about transforming their lives.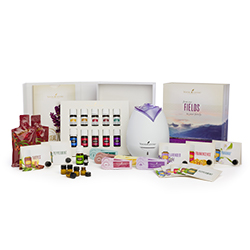 Your Premium Starter Kit Includes:
Home Diffuser
Premium Essential Oils Collection;

Lavender 5-ml
Peppermint Vitality™ 5-ml
Lemon Vitality™ 5-ml
Copaiba Vitality™ 5-ml
Frankincense 5-ml
Thieves® Vitality™ 5-ml
Purification® 5-ml
R.C.™ 5-ml
DiGize™ Vitality™ 5-ml
PanAway® 5-ml

Stress Away™ 5-ml
AromaGlide™ Roller Fitment
10 Sample Packets
10 Love It? Share It! Sample Business Cards
10 Love It? Share It! Sample Oil Bottles
2 NingXia Red® 2-oz. samples
Product Guide and Product Price List
Essential Oil Magazine
Essential Edge
Member Resources
One or more of the following essential oils may be substituted in the event of sourcing constraints or supply considerations: AromaEase™, Citrus Fresh™ Vitality™, Lemongrass Vitality™, Orange Vitality™ and Tea Tree.
PURCHASE KIT, BECOME A YOUNG LIVING MEMBER CLICK HERE.
If you buy everything included, you will pay over $325.00 retail, but $160.00 wholesale. So if this isn't in your budget and you really want to check it out, you can choose other starter kits for much less, but they do not include oils or diffusers. You can buy the $45 membership kit to get started with your 24% discount.
Step by step instructions on how to join Young Living Essential Oils and save 24% on your purchase.
1. Click here to begin the enrollment process.
2. Independent Distributor will already be selected. Again, this is the wholesale membership. You are NOT AGREEING TO SELL or distribute anything. If you select "Retail Customer" you will not receive wholesale pricing. (note you will see my enroller id in the form – that makes me available to you to any questions you might have, etc)
3. Choose the kit you want. Then proceed to check out. Unless you know you will spend $50 each month go ahead and say no to essential rewards for now, you can always sign up later.
I would love for you to join my Young Living Essential Oil family and the first person to contact me in regards to this blog will receive a coupon voucher for $20.00 off your initial membership kit! What a great deal!! Contact me TODAY!
With Love and Oil
Dixey
If you have any questions, please leave them in the comments! There are more opportunities with to save/earn with Young Living if you would like to learn more.